The ignition switch on the Zündapp Bella R204 is quite nifty; the engineers at Hella managed to squeeze quite a few connections inside. The front consists of a key entry point and a cover that can be shifted up to hide the key point: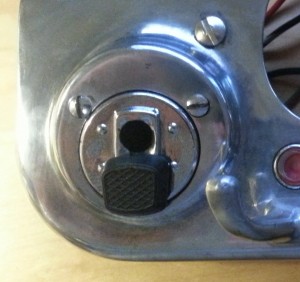 The key itself is shaped to fit nicely over the slide.
The key is also designed quite cleverly. The bits that stick out turn the mechanism into into it's on and on-with-light settings. The thin part at the bottom fits between two thick wires in the switch through which the main power is supplied; so pulling out the key acts as a kill-switch. Using the key itself as a conductor saves a connection and reduced switch complexity. Quite nicely done.
When I took the ignition switch out while stripping the bike it was quite dirty and oxidised: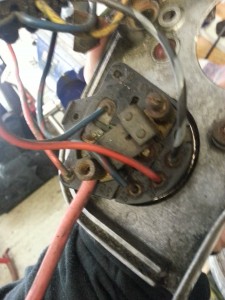 If you look very carefully between numbers 57 and 30 you can see a small channel in which there is normally a small grounding wire. This is gone and needs to be replaced (the photo is of the restored switch).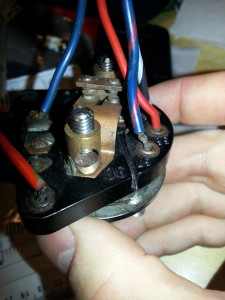 More on this later.
From a different angle you can see that pushing the key into the contact will let the key double as a starter switch by closing the gap between the copper parts. Another nifty key use: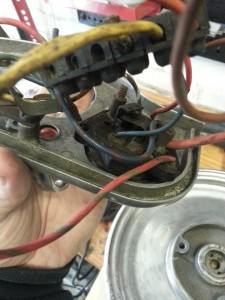 At the same time, never use a key without insulation or a non-insulated object (like a screwdriver) to try and start the scooter as it will be directly connected to the battery.
Here's what I did to restore the switch:
Dipped the switch into a metal cleaning agent (qwicksilver); this really cleaned up the copper which was heavily oxidised as well as the soldering points
Replaced the grub screws that hold the battery cables with stainless versions. One was missing in mine and a screw was used instead and the other one was rusted shut.
I replaced those wires that were no longer serviceable. One was easily de-soldered; the other wasn't. I cut it close to the switch and simply drilled out the the wire; as long as done carefully it works fine.
The blue, red and black/white wire are around 11 cm; I used 50 cm for the ones that go to the lamp unit. I fitted those with 3mm banana plugs that fit snugly into the bulb holder.
I soldered the grounding wire back in
Here's the finished product: